Name
Hubsub
Kanji
ユンボル
Affiliation
World's Construction Project
Genber Empire
Number
2
First Appearance
Chapter 1
Hubsub(ユンボル) is a fictional character in the manga series of Jumbor Barutronica. He is the second Jumbor created by Dr. Docult.
Appearance
Edit
Even withouth transforming, he is the second largest Jumbor next to Doza. While transformed does his Iron Gauntlet easily dwarf a minivan. He is rather muscular, his head is compeltly shaven and he is constantly seen wearing a pair of sunglasses.
His Iron Gauntlets takes the form of four wheels, one on each of his arms and legs and large plate on his back and two smaller ones on his chest.
Personality
Edit
Abillities
Edit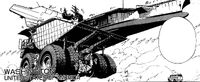 As a Jumbor he posseses inhuman strenght and resilience. His Iron Gauntlets can transform most of his body into a gigantic dumptruck, large enough to carry several aircraftcarriers.
References
Edit